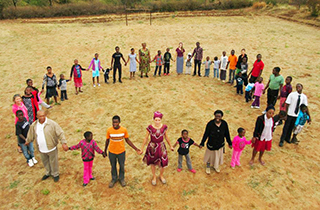 A new 'circle of love' is embracing our orphans: four lovely new homes have been built, in a circle, on our new campus for our 'Murwira Children's Home' orphans. The home has a new name which better reflects the care we give to our children:  Kuda Vana Children's Home (KVCH). Kuda Vana means 'loving children' in the Shona language. The children who come to KVCH are Zimbabwe's most forgotten. Most have been either badly abused or dumped. Many are HIV+. At KVCH they begin a new life of love, safety, security, dignity and opportunity.
The construction has been ongoing for many months and was necessary because the Zimbabwean government no longer permits children's homes to use 'dormitory' type sleeping rooms. All children's homes must provide family-setting homes, each with a 'mama.' Also, the old campus had run out of water. The only solution was to move the children to a new campus with a good water supply.  Thanks to many tireless volunteers and donors, the new campus is nearly completed. The children are now living in their new homes on the shores of a lake.  In addition, a home was built for administrator Martin Karombe and his wife Nicole, volunteer quarters, garage/workshop and library-multi-purpose room. The children are all eating, studying, sleeping and having worship in their own homes now with their very own Mamas. The new campus is closer to town so there is less cost for fuel. The electricity source is both solar and grid. Water is plentiful (lack of water on the former campus was a major reason for the move.)
Our Colorado angel volunteers, Colleen and John Ordelheide, returned from Zimbabwe at the end of February, having spent most of the month furnishing the new Kuda Vana Children's Home houses and construction of library/meeting room and home for KVCH Head Matron, Belinda Mugugu. Our children are now all living in homes of their own; each child has their own Mama. The Aunties are rotating among the homes.
Colleen and John Ordelheide tell us, "We were happy to see the children interacting with their new Mamas and also beginning to work together as a family. My heart was so full of joy, and tears came to my eyes. Oh, how badly the children have needed this. We noticed first of all how much more calm the younger children were, and how clean and neat all of the children looked and smelled. The younger children are showing such good manners. It was such a confirmation that the move was the right thing to do, and has been worth all of the time, effort, and money. We are deeply grateful to the many donor who've helped to build our new homes for our children.
Little Nyasha, who has struggled with seizures for many years, needs someone to help watch his diet, and see that he gets enough water and exercise and rest. He needs medication given to him at just the right time every day. Nyasha craves to be loved. Nyasha now has the care and love by a Mama who will know him, understand him, and be able to hold him when he so badly needs it. She will be able to look into his eyes and see when he needs extra water and extra rest to keep him from having another seizure. There is a new light in this little boy's eyes."
After years of struggling to maintain a good water supply for the children, we have been blessed with abundant water resources at our new location. The new campus is located on a lake, which is also a water reservoir, and the homes also have their own well. Now, for the first time our children and staff have so much water that our children are even filling bottles to take to their new school which has no water supply.
Funds are needed. The operating expenses for KVCH average $13,000 per month which covers support of children, staff, food, transportation, medical, clothing, schooling and gardens.